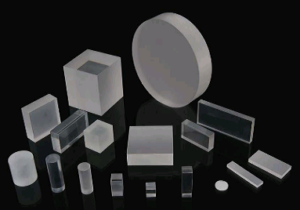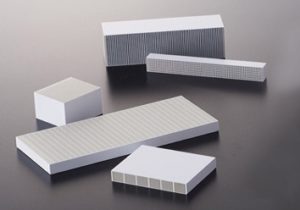 CsI(Tl) Scintillation Crystal
CsI(Tl) has a light output of 54 photons/keV and is one of the brightest scintillators known.  It has most of its emission in the long wavelength part of the spectrum (>500nm), it is well-suited for photodiode readout.
CsI(Tl) has a very good stopping power, is slightly hygroscopic and with good plastic mechanical properties. Combined with a the relatively good radiation hardness properties, CsI(Tl) is also well suited for High Energy Physics. It also has no cleavage plane and is quite rugged – which makes it well-suited for well logging, space research or other applications where severe shock conditions are encountered.
1 ) Security inspection
2 ) High energy physic
3 ) Nuclear radiation detection
1 ) High light output
2 ) Emission wavelength at 550 nm
3 ) Compatible with photodiode readout
| | |
| --- | --- |
| Density [g/cm3] | 4.51 |
| Melting point [K] | 894 |
| Thermal expansion coefficient [C-1]  | 54 x 10-6 |
| Cleavage plane | None |
| Hardness (Mohs) | 2 |
| Hygroscopic | Slightly |
| Wavelength of emission max. [nm] | 550 |
| Lower wavelength cutoff [nm]  | 320 |
| Refractive index @ emission max  | 1.79 |
| Primary decay time [ns]  | 1000 |
| Light yield [photons/keVγ] | 54 |
| Photoelectron yield [% of NaI(Tl)] (for γ-rays) | 45 |
Product

Specification

Quantity

Pricing(USD)

Delivery time

Online Ordering

CsI(Tl) scintillator

Crystal Material: Czochraiski growth CsI(Tl) crystal

Crystal Size: Diameter 50 mm x 50 mm

Energy resolution: ≤7.5%@662keV(Cs-137)

Encapsulation: Aluminum housing with an end optical window

1

850

3 weeks

CsI(Tl) scintillator

Crystal Material: Czochraiski growth CsI(Tl) crystal

Crystal Size: Diameter 25 mm x 25 mm

Energy resolution: ≤7.5%@662keV(Cs-137)

Encapsulation: Aluminum housing with an end optical window

1

155

3 weeks

CsI(Tl) crystals

Crystal Material: Czochraiski growth CsI(Tl) crystal

Crystal Size: 8 x 8 x 50 mm

One end surface polished

10

270

2 weeks

CsI(Tl) crystals

Crystal Material: Czochraiski growth CsI(Tl) crystal

Crystal Size: 20 x 20 x 3 mm

Double sides polished

10

115

2 weeks

CsI(Tl) crystals

Crystal Material: Czochraiski growth CsI(Tl) crystal

Crystal Size: 10 x 10 x 40 mm

All sides polished

5

185

2 weeks

CsI(Tl) crystal

Crystal Material: Czochraiski growth CsI(Tl) crystal

Crystal Size: 50 x 50 x 50 mm

All sides polished

1

1000

3 weeks

CsI(Tl) crystals

Crystal Material: Czochraiski growth CsI(Tl) crystal

Crystal Size: 10 x 10 x 30 mm

All sides polished

10

250

2 weeks

CsI(Tl) crystals

Crystal Size: Dia. 10 x 0.5 mm

Double sides polished

5

115

2 weeks